DOES YOUR
OLD A/C

NEED REPLACEMENT?
You can rest assured that your satisfaction is 100% guaranteed and that our knowledgeable team will stand by their work.
Locally Owned For Over 45 Years
Factory-Trained, Licensed & Insured Technicians
24/7/365 Emergency Service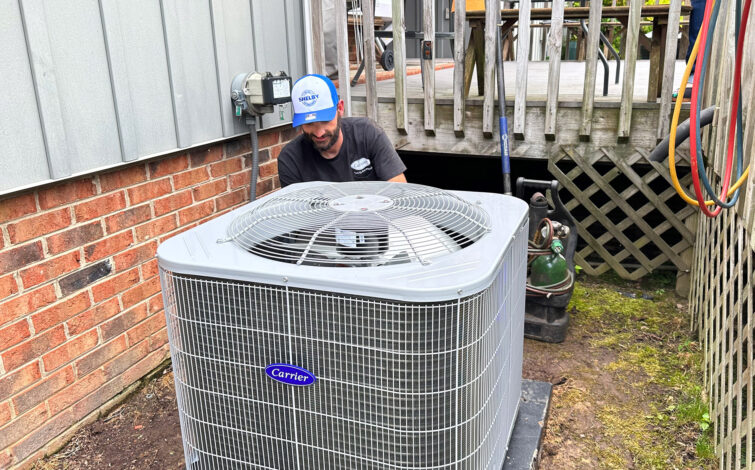 Trusted Air Conditioning Installation in Shelby, NC and Surrounding Areas
Older air conditioning units typically have an Energy Efficiency Ratio (EER) or SEER rating ranging from 8 to 12, whereas newer AC units boast an impressive SEER rating of 26. This significant improvement in efficiency can help you reduce your monthly expenses considerably.
When the accumulated costs of frequent repairs and rising electricity bills become overwhelming, opting to replace your unit can often be the most cost-effective decision. At Shelby Heating & Air Conditioning, our team of installation experts is ready to assist you in exploring all the available options, ensuring that you can make an informed choice that aligns with your house and budget.
While the expense of replacing central air conditioning units can be substantial, homeowners typically invest in brand-new air conditioning systems only once. Rest assured, we are well-prepared to provide guidance in selecting the best system for your home.  Contact us today to arrange for our expert installation technicians to evaluate your current system and offer a complimentary estimate for your new air conditioning installation!
WHEN IS IT TIME

TO INSTALL A NEW A/C?
If your air conditioning unit is over 10 years old, it will become increasingly unreliable, even if you are proactive about the maintenance of the unit. Regardless of the quality of your system, constant use diminishes its overall life expectancy. As your HVAC approaches the end of its service lifespan, repairs will become more common and progressively more expensive. It may be time to consider replacing your aging unit with a newer, more efficient model. Our experts are ready to give the advice you need so that you can have the best fit for your home.
Signs You Need a Replacement:
Your Unit is More Than 10 Years Old
Starting To See More and More Repairs Needed
Increase in Your Utility Bills

What we provide
OUR SERVICES
SERVICES
We are service professionals! As licensed contractors and specialists in the field of heating and air-conditioning, we have the tools, equipment, and experience to keep your equipment running smoothly all year long. If it is an emergency service that you need, twenty-four hours a day, seven days a week, we are available to assist you! To help reduce service emergencies, we offer service agreements to keep your comfort system running at peak performance.
SERVING YOU LIKE FAMILY
WHY CHOOSE SHELBY?
Ready to Get Started?
CONTACT US
OR
REQUEST SERVICE

TODAY!
Shelby Heating & Air Conditioning utilizes highly trained technician professionals to service, repair and install all types of Commercial and Residential heating & air conditioning equipment and systems, from simple to the most complex, to meet each of our customer's needs and budget. Great service is our top priority!
Request Appointment
or
FREE Estimate

Now!