READY TO
IMPROVE

YOUR AIR QUALITY?
You can rest assured that your satisfaction is 100% guaranteed and that our knowledgeable team will stand by their work.
Locally Owned For Over 45 Years
Factory-Trained, Licensed & Insured Technicians
24/7/365 Emergency Service
Indoor Air Quality Specialists in Shelby, NC and Surrounding Areas
Purity, cleanliness and humidity are important to your lungs and to your home. Today's homes are built much tighter. Airborne contaminants and particles can linger and recirculate dust and allergens throughout your home. We can now control air quality better than ever with the latest technology in air purifiers, air cleaners, and humidifiers.
Take a look below to see some of our recommended Carrier products and services for improving the air quality in your home or business!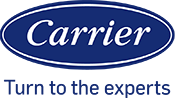 Remove contaminants such as pollen, mold and pet dander that aggravate allergies.
Air cleaners effectively remove bacteria, pollen, animal dander and other pollutants as small as 0.01 microns. That's 18,000 times smaller than the head of a pin. The higher the Minimum Efficiency Reporting Value (MERV), the more efficiently the cleaner removes particles. We offer air cleaners that range from MERV 10 to MERV 15 to meet your needs.  For those families that have severe allergies, we also offer Whole House High-Efficiency Particulate Arresting (HEPA) filtration systems.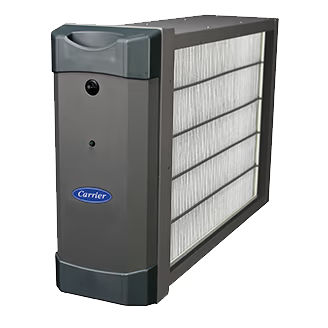 Carrier Infinity® Air Purifier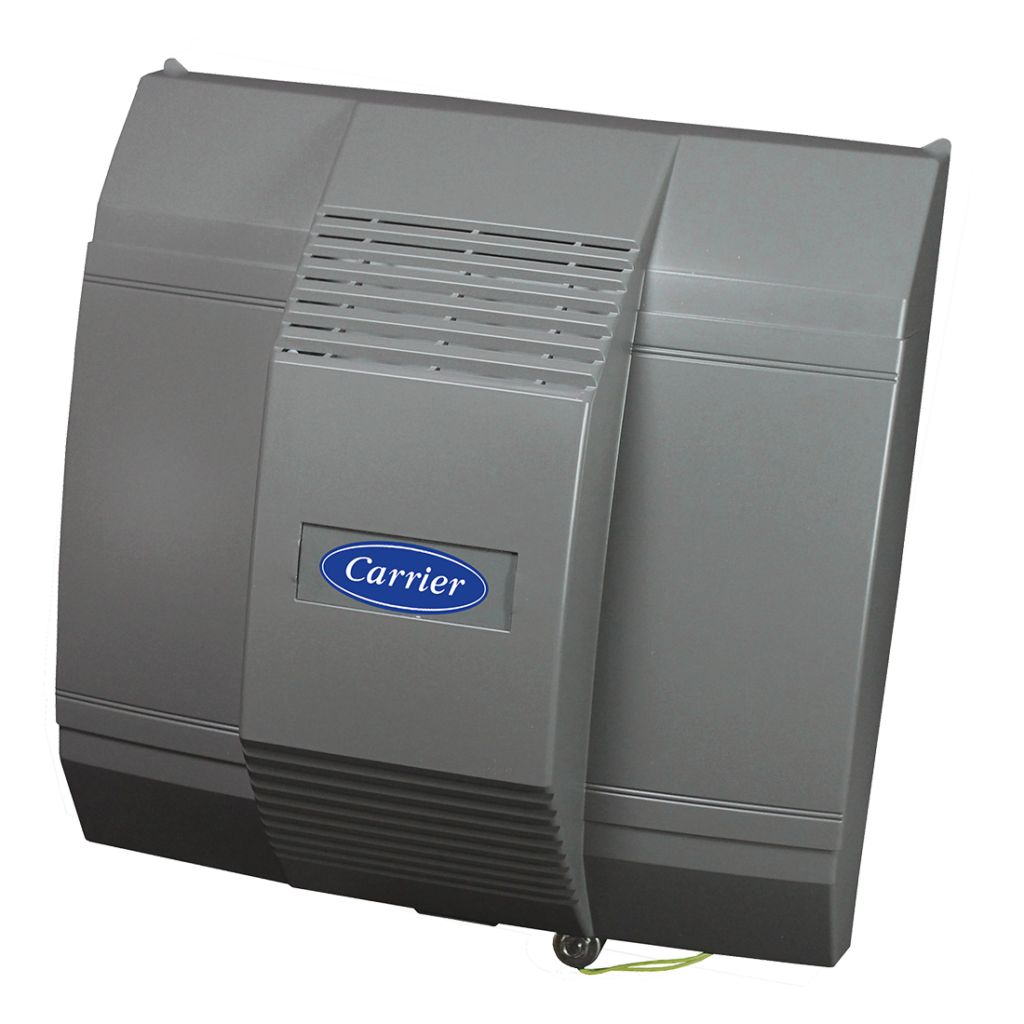 Carrier Performance™ Large Fan-Powered Humidifier
Properly control humidity for personal comfort, to protect furniture and wood floors, and reduce static electricity that damages electronics.
Humidifiers work in tandem with your heating system to deliver desired humidity levels throughout your home. Maintaining proper humidity levels in your home is essential to maintaining indoor comfort during the winter months. Moderate humidity levels make you feel warmer at lower temperatures, which means you can set your thermostat lower without sacrificing comfort.

Depending on the size of your home, we offer a variety of humidifiers to deliver the right amount of moisture into the air. Sizing of humidifiers is measured in Gallons Per Day (GPD), and we offer models from 12 GPD to 18 GPD.
Remove cooking, pet and chemical odors by expelling them to the outdoors.
Ventilators bring fresh air into your home without losing heating or cooling energy. Their unique energy exchange system transfers the heating or cooling energy from the stale air being exhausted from your home to the fresh air the ventilator brings into your home.
If your family suffers from allergies, ventilators are a much better alternative for introducing fresh air into your home versus opening your windows. They also do a great job of reducing cooking and pet odors, smoke, and other pollutants out of your home.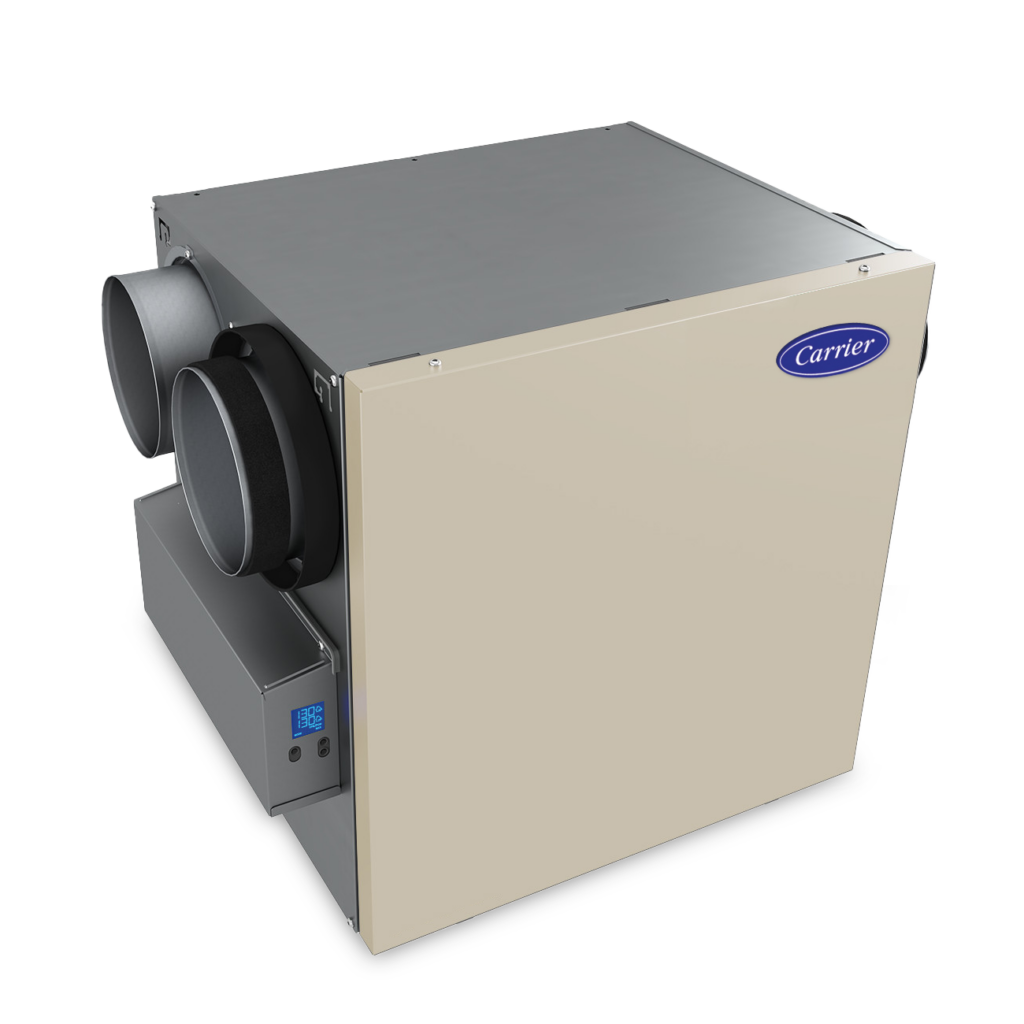 Carrier Performance™ Horizontal Energy Recovery Ventilator
Kill airborne microbial growth of mold, bacteria and viruses throughout your home, ductwork and cooling coils.
Ultraviolet light kills bacteria and mold growing on your indoor coil before they are circulated throughout your home. UV lamps are installed near your existing indoor coil and work diligently to rid your home of the bacteria, viruses, mold and germs that impact your home's health. We install 1 or 2 lights per indoor coil, depending on the size of the coil.

Carrier Performance™ Ultraviolet Germicidal UV Light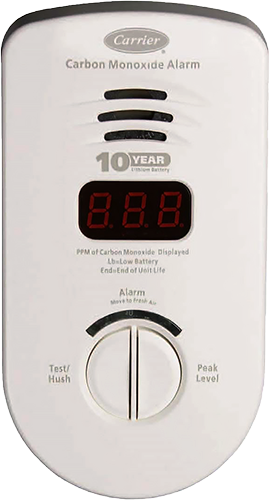 Carrier Carbon Monoxide (CO) Alarm
CARBON MONOXIDE DETECTORS
To protect your family from this silent killer.
Carbon Monoxide (CO) is a colorless, odorless, and tasteless gas which makes it extremely dangerous. CO detectors can protect your family from deadly carbon monoxide gas. Fuel-burning appliances such as oil and gas furnaces, gas water heaters, gas ranges and ovens, gas dryers, gas or kerosene space heaters, fireplaces and wood stoves are all sources of carbon monoxide.
A monitored carbon monoxide detector will alert you if high levels of this deadly gas are detected. Local building ordinances require the installation of carbon monoxide detectors in your home. An expert technician from Shelby Heating & Air Conditioning, Inc. can properly install your CO detector and ensure it's functioning correctly.
Keep each area of your home at the proper comfort level to meet your lifestyle.
Thermostats are used to turn on heating or cooling systems to bring the home to a set temperature. In addition to basic temperature control, programmable thermostats can be used to manage the indoor environment of your home at different times of the day or week. This type of control can have a dramatic impact on the overall energy use of your home. We carry a complete line of thermostats. Let us help you choose the one that best matches your lifestyle.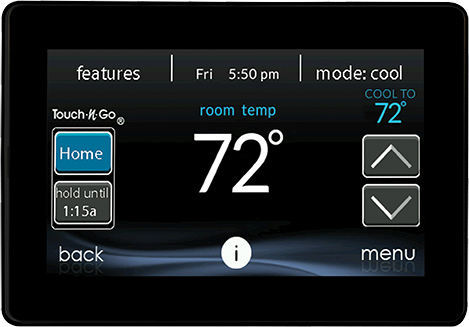 Carrier Infinity® System Control

What we provide
OUR SERVICES
SERVICES
We are service professionals! As licensed contractors and specialists in the field of heating and air-conditioning, we have the tools, the equipment, and the experience to keep your equipment running smoothly all year long. If it is emergency service that you need, twenty-four hours a day, seven days a week, we are available to assist you! To help reduce service emergencies, we offer service agreements to keep your comfort system running at peak performance.
SERVING YOU LIKE FAMILY
WHY CHOOSE SHELBY?
Ready to Get Started?
CONTACT US
OR
REQUEST SERVICE

TODAY!
Shelby Heating & Air Conditioning utilizes highly trained technician professionals to service, repair and install all types of Commercial and Residential heating & air conditioning equipment and systems, from simple to the most complex, to meet each of our customer's needs and budget. Great service is our top priority!
Request Appointment
or
FREE Estimate

Now!